Sturgeon Point Marina Staff
Updated March 23, 2010
Management
---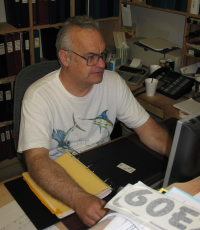 Bob Holley - Owner / Manager
Bob purchased Sturgeon Point Marina in September 1968 at the age of nineteen with the support of his parents Jack and Doris Holley. Since then under his guidance Sturgeon Point Marina has grown from a small one building shop, into a large five acre bustling marina which includes a large showroom, many buildings, a vast selection of boats, seadoos, jet boats and over two hundred motors, an extensive shop able to handle any project, four boat storage buildings, a launch ramp and docking for over one hundred and thirty boats. As the owner he has always strived to keep Sturgeon Point Marina a family run business. His wife Susan helps him take care of the paperwork while his two sons Charles and Edward have taken after his love of motors and spend most of their days working in the shop.
Parts
---
John Corbeau
John has been with us for almost 2 years. In addition to working with Rick on the parts desk, John is also certified in small engine repair and manages a successful small business on the side.
Rick Templeton
Rick has been with us since April 2009. He has worked in marine parts since he was 14 and is very familiar with any questions you may have.
Shop
---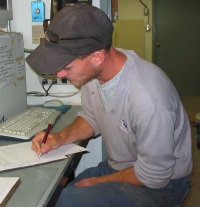 Charles Holley - Head Mechanic
Charles (Bob's Son) has been working in the shop since he was eight years old which gives him over eighteen years of experience. Over the years he has seen just about everything that can happen to a motor or boat. His knowledge and experience helps him fix your problem quickly and effortlessly. On top of being an excellent mechanic he keeps the shop running and everyone working while his father is taking care of all the office work.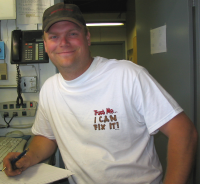 Edward Holley - Mechanic
Ed (Bob's Son) like his brother started working in the shop when he was eight. He has inherited his father's natural skill for machinery and can figure out a solution to any mechanical problem. The attention he pays to detail and the extra effort he puts into his work can been seen in a unit when he is done. He can take an old rusted car and make it run and shine like the day it rolled off the assembly line.
Curt Vanlaarhoven - Mechanic
Curt has been working with us for a number of years. His specialty is in small engines, and you will find him getting your seadoos working in the summer. A hard worker, he is not satisfied until the job is done right. At the same time he constantly displays a cheerful attitude and is genuinely concerned about getting whatever mechanical issues you may have resolved.
Kevin Johnston - Mechanic
Kevin Johnston joined us in our shop this summer. He also runs Collingwood Adventures - a boat tours company that gives tours of Georgian Bay.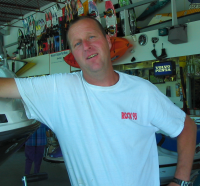 Randy Applegate - Maintenance
Randy has taken care of the Marina since 1991. A few of his many responsibilities include maintaining and repairing the docks, painting and fixing up trailers and keeping all the boats and seadoos we sell spotless. Working here at the marina is the perfect job for Randy because of his love for fishing and for the boats that take him to them.
Office
---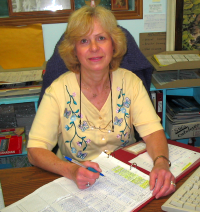 Susan Holley - Accounts payable/payroll
Susan (Bob's Wife) takes care of the piles and piles of government paper work that the marina goes through every week and makes sure the bills are paid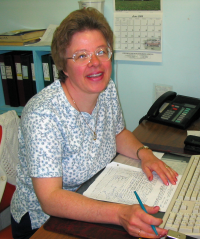 Julia Clement - Shop Administrator / Receptionist
Julie has been apart of the Sturgeon Point office since September 1990. She makes sure that all the repair jobs get the attention they deserve. Julie is also the receptionist for the marina, so she is the first person that you will talk to when you call us. She and her husband love classic cars and are often at the Wasaga Beach car shows.
Brandt Ziegler - Software Development and Website Updates
Brandt was a former co-op student with us in the mid-90s. He went on to develop software for both the public and private sectors before completing a Master of Theological Studies. He develops all of our custom software. In his spare time he develops websites as Horizon Information Solutions.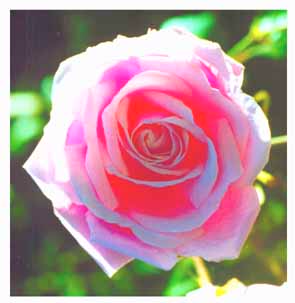 Gloria - Accounts receivable
Gloria (Charlie's wife) has been at the Marina since November 2007. Her job here is to make sure all the bills are paid. She sometimes is the bubbly voice you hear on the other end of the phone as well. Gloria has been married to Charlie Holley for five years and they have 2 beautiful daughters. When she is not at work buried in paperwork, she is at home baking cookies with the girls.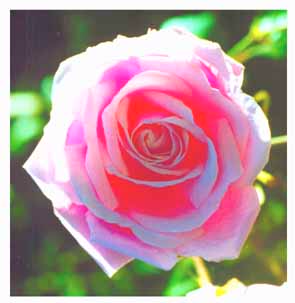 Linda Courchesne
Linda joined us this summer (2012) to help out with office admin. Her job continues to give her a broader view of things at the marina as she has helped out in the parts department and wherever else she is needed. She is always cheerful, eager to help, and gets the big picture of what it takes to keep the business running smoothly.
---