A Word From Bob Holley
Updated July 27, 2008
---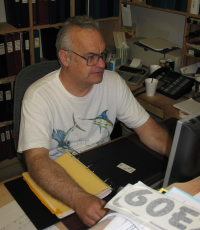 Sturgeon Point Marina was first started by Mr. Art Millen, a retired Supertest Construction Contractor. At first it was a small building located at the mouth of the Nottawasaga River built in 1962.
Art was a great guy to work for a real man's man. Docking back then was a whopping seventy five dollars for your own private dock and taxes for the whole business was six hundred and fifty dollars per year. Art wanted to retire and he sold the business to me, his mechanic and friend, Bob Holley.
I have had the pleasure of serving you the public and running this Marina since September of 1968. Because I was only nineteen years old at the time of purchase , my parents Jack and Doris Holley not only supported me financially , they gave up six years of there life to get me started. My Dad had just retired from Air Canada as a pilot , he was a Captain with number one seniority in Toronto a fact I am very proud of. In 1974 I married Susan Gurton who has put up with me for all these years, Quite a Woman!
A lot of things have changed , we are now over five acres in size with four large buildings to serve you. Our taxes have changed slightly higher, and so did our docking fees. Today you may have a private slip starting at nine hundred and fifty dollars up to fourteen hundred dollars per summer.
Because of my love for motors and the shop , we are the busiest in this department. I have two sons, Charlie and Eddie that also love the shop so they are both in there fixing what ever comes there way. We also have assistant mechanics, Randy and Ian. It makes for a happy family in the shop. I should mention we take on anything for repairs, from small tune up to major rebuilding of V8's upper and lower unit drives of Merc, Volvo and OMC. Also fiberglass repairs to the extent of replacing floors transoms and yes we have even built complete boats.
We like a challenge so if you have one of those nobody can fix problems bring it in, we are fair and will call you in to see the damage and give you alternatives ways of repairing your unit so that it can give you some fun not just headaches. We have a fully stocked Parts Department run by Brian who is more than Happy to find you new or used parts to get old bessie going again. I have three girls that keep me in control, Julie that runs the shop and keeps me sane, Marlee that looks after the licensing and web page and my daughter in-law Gloria who looks after the books.
To Contact us for any pricing on our New or Used products, parts or Services, please call our non computerized phone number or fax us. E-mails are a little slower response time as I am the only one reading them, but bear with us we will answer you,
THANKS. Bob Holley
---